SpaceX still looking at "all plausible causes" of static fire accident
Ars Technica » Scientific Method 2016-09-26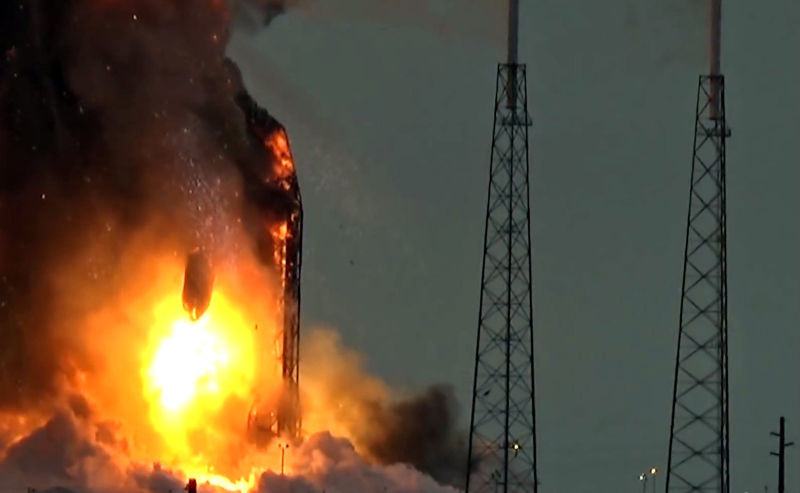 Enlarge / Screen grab of SpaceX static fire anomaly from YouTube video. (credit: USLaunchReport.com)
On Friday, SpaceX released an update on its investigation into the recent loss of its Falcon 9 rocket (the rocket was lost in a fast fire on September 1 at its Florida-based launch pad and took its Israeli satellite payload with it). After a preliminary review, the company has tentatively found that a "large breach in the cryogenic helium system of the second stage liquid oxygen tank took place." The breach occurred during propellant loading in advance of a static fire test, in which the vehicle's engines are fired before launch to ensure their readiness.
While this represents a step forward, SpaceX still has not identified the root cause of the accident. The company has, however, concluded that the problem is not related to the June 2015 loss of another Falcon 9 rocket in flight, which also failed because of an upper-stage incident. "All plausible causes are being tracked in an extensive fault tree and carefully investigated," the company stated in its update. "Through the fault tree and data review process, we have exonerated any connection with last year's CRS-7 mishap."
According to SpaceX, the biggest challenge with investigating the September 1 accident is that the failure happened during a very short period of time. Just 93 milliseconds passed between the initial sign of an anomaly to a loss of data. An accident investigation team, including officials from SpaceX, the Federal Aviation Administration, NASA, the US Air Force, and the industry continues to look at 3,000 channels of data from this short time period, as well as debris and photographs that have been collected.