Blue Origin has built three new rockets, may begin flying again this summer
Ars Technica » Scientific Method 2017-04-07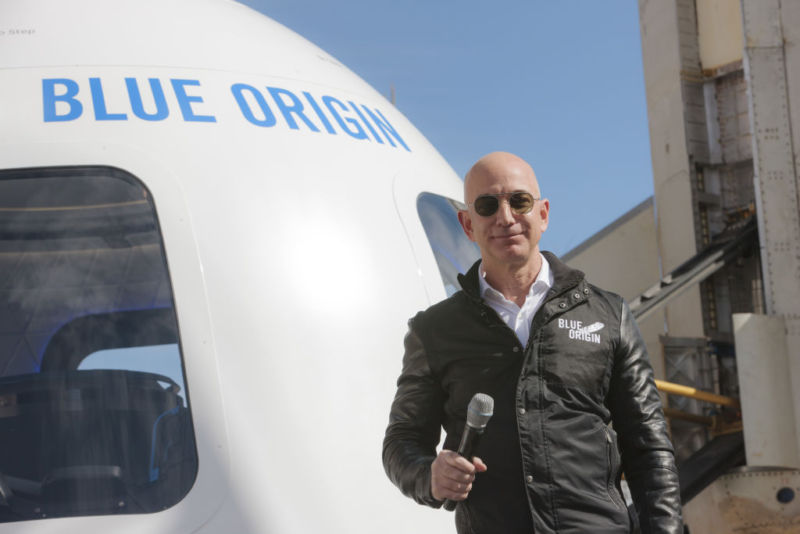 Enlarge / Jeff Bezos speaking at the unveiling of the Blue Origin New Shepard system during the Space Symposium on Wednesday, April 5, 2017. (credit: Matthew Staver/Bloomberg via Getty Images)
Between November 2015, and October 2016, the reusable New Shepard rocket and spacecraft made five suborbital flights, surviving some pretty harsh scenarios. But during the last six months, Blue Origin, the semi-secretive rocket company founded by Jeff Bezos, has not flown any new vehicles. So what has it been up to?
This week, the company brought the rocket that made those five flights to the Space Symposium in Colorado Springs, Colorado and displayed it along with a mockup of the spacecraft that will eventually begin carrying customers on 11-minute suborbital flights. Bezos said he was not ready to disclose a price yet or sell tickets, but these consumer flights remain on track for sometime in 2018.
The original rocket has been retired and will likely go on a road show before ending up in a museum. To find out what has been happening behind the scenes with the second iteration of the New Shepard rocket, Ars spoke with Blue Origin President Rob Meyerson. He said the company's engineers have learned a lot of "little lessons" from the test flights of the New Shepard module in late 2015 and early 2016.