An Alabama representative just let the cat out of the bag with the SLS rocket
Ars Technica » Scientific Method 2019-03-27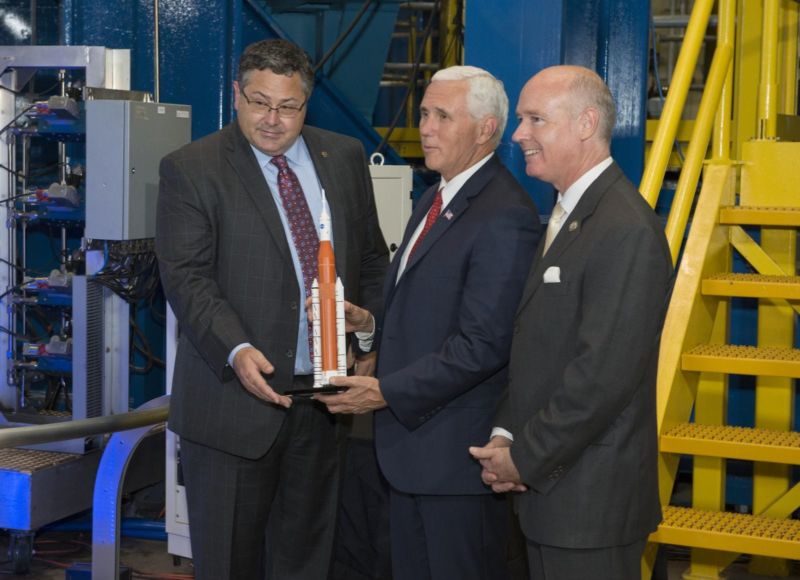 Enlarge / Then-director of the Marshall Space Flight Center Todd May (left) presents Vice President Mike Pence (center) with a Space Launch System model. Congressman Robert Aderholt (R-Ala.) stands at right. (credit: NASA)
On Wednesday, NASA administrator Jim Bridenstine appeared before the United States Congress to talk about the president's budget request for fiscal year 2020. There, Bridenstine faced a slew of questions about the Space Launch System rocket, particularly from representatives whose states have a large number of jobs tied to the program.
The questions came a day after Vice President Mike Pence put the SLS rocket program on notice in regard to his desire to send humans to the lunar surface by 2024. "If our current contractors can't meet this objective, then we'll find ones that will," Pence said. During the House appropriations hearing, legislators from SLS states wanted to make sure NASA still plans to use the rocket for the agency's heavy-lift needs.
For example, Alabama Rep. Martha Roby asked for Bridenstine's assurance that the SLS rocket was truly a great rocket the agency couldn't live without: "Can you highlight for us the key reasons SLS is the best approach for these missions and what capabilities it provides that other alternatives cannot?" she asked.