Archaeologists discover "Lamborghini" of chariots near ruins of Pompeii
Ars Technica » Scientific Method 2021-03-01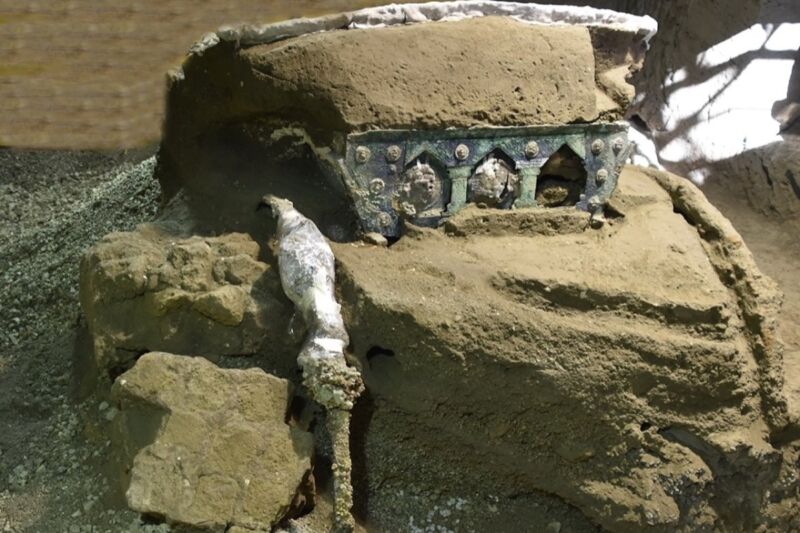 Enlarge / A four-wheeled ceremonial chariot discovered by archaeologists near the ancient Roman city of Pompeii. (credit: Archaeological Park of Pompeii)
Archaeologists in Italy have unearthed an elaborately decorated, intact four-wheeled ceremonial chariot near the ruins of the Roman city of Pompeii, famously destroyed when Mt. Vesuvius catastrophically erupted in 79 AD, BBC News reports. The archaeologists believe the chariot was likely used in festivities and parades—possibly even for wedding rituals like transporting the bride to her new home, given the erotic nature of some of the decorative motifs.
The find is extraordinary both for its remarkable preservation and because it is a relatively rare object. "I was astounded," Eric Poehler, a professor at the University of Massachusetts Amherst who is an expert on traffic in Pompeii, told NPR. "Many of the vehicles [previously discovered] are your standard station wagon or vehicle for taking the kids to soccer. This is a Lamborghini. This is an outright fancy, fancy car. This is precisely the kind of find that one wants to find at Pompeii, the really well-articulated, very well-preserved moments in time."
Other archaeologists weighed in on Twitter. "My jaw is on the floor just now!" tweeted Jane Draycott of the University of Glasgow. "Still wrapping my head around the latest incredible discovery," Sophie Hay of the University of Cambridge tweeted in an extensive thread about the surprising find. "The details are extraordinary."