Crowds Of Pushy Parents Turned A Kid's Easter Egg Hunt Into "A Mess"
BuzzFeed - Latest 2016-03-27
Summary:
The crowd acted "kind of like locusts," organizers said.
PEZ Candy ended its annual Easter egg hunt early after chaos broke out among the event's roughly 1,000 participants when people rushed the field before the activities began, according to WFSB.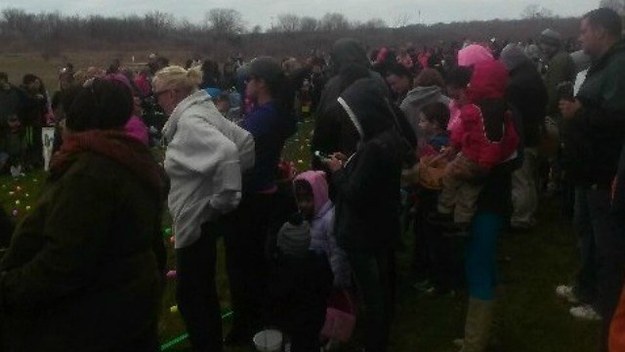 WFSB / Via wfsb.com
The event's organizers placed more than 9,000 eggs on three different fields. Each age group was scheduled for staggered hunts.
But around 10:30 a.m. ET parents "just bum-rushed that area," Nicole Welch, who attended the hunt with her four-year-old son, told WFSB.
PEZ General Manager Shawn Peterson said parents rushed the fields ahead of any direction by the event's staff "kind of like locusts."
"So we started talking to people and say, 'Hey, this is supposed to start at certain time'," said Peterson. "Well, that lasted about a minute and everyone just rushed the field and took everything."
People described a chaotic scene on Facebook where toddlers were squeezed out of their place at the event by pushy parents.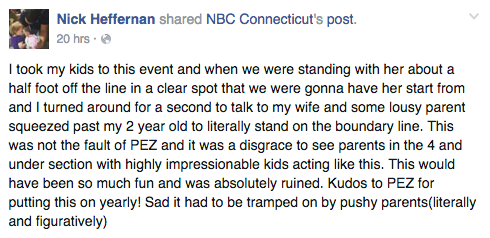 ---
Link:
http://www.buzzfeed.com/leticiamiranda/easter-egg-hunt-fail?utm_term=4ldqpia
From feeds:
Le Test Hub
»
BuzzFeed - Latest
Tags:
letest.buzzfeed
peterh.test_tag
peterh.test_tag2
peterh.test_tag3
peterh.test_tag11
Authors:
Leticia Miranda
Date tagged:
03/27/2016, 15:01
Date published:
03/27/2016, 14:16