Walter Tull: Britain's Forgotten Black Hero
BuzzFeed - Latest 2016-10-30
Summary: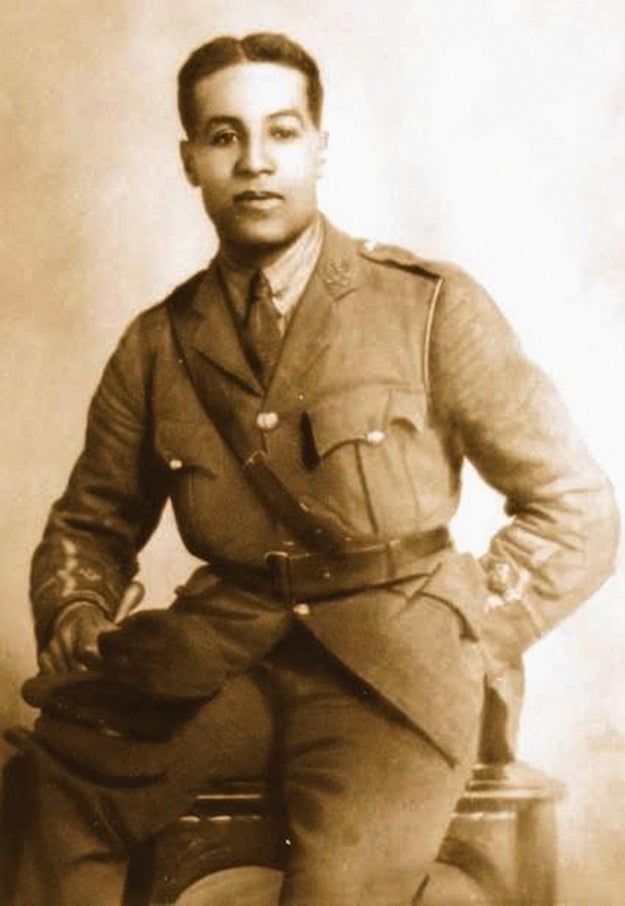 Westminster City Council / PA ARCHIVE IMAGES
The first black officer to lead white soldiers into battle in the history of the British army. Britain's second professional black footballer. He was a man who overcame significant odds to achieve a huge amount in his short life. But almost a century on from his death, he remains a relatively unknown figure.
This is the incredible and ultimately tragic story of Walter Tull and his legacy.
Walter Daniel John Tull was born in Folkestone, Kent, on 28 April 1888. His father, Daniel, was a joiner who arrived in Britain from Barbados in 1876. His paternal grandparents had been enslaved.
When he was 7 years old, his white English mother, Alice, died, and his father married her cousin. Two years later, his father died. Tull and his older brother Edward were sent to an orphanage in east London, the Wesleyan Methodist Home, leaving his three half-sisters in his stepmother's care.
From their new home in Bethnal Green, Edward toured the country with the orphanage's choir, and during a visit to Glasgow he came to the attention of Jeanie and James Warnock, who were struck by his beautiful voice.
In November 1900 the Warnocks adopted Edward and he moved to Glasgow, leaving Walter, aged 12, alone at the orphanage. He joined the football team.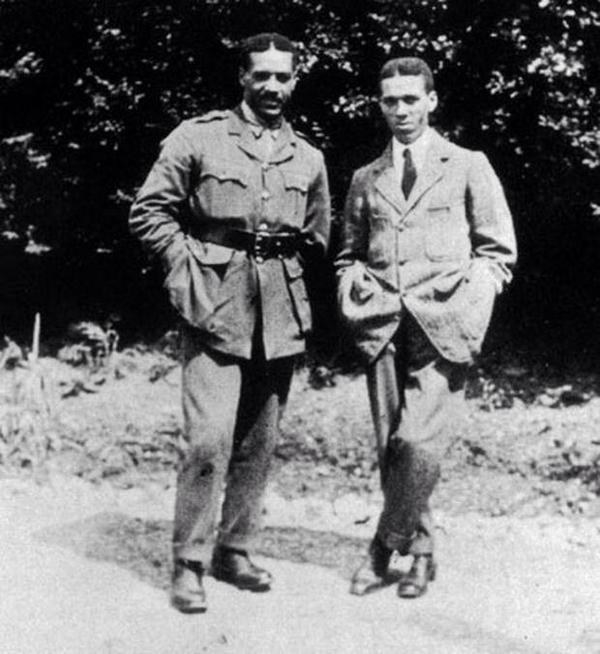 Walter (left) and Edward Tull, pictured in Glasgow in 1916
Walter Tull Archive / Via Twitter: @WTArchive
Tull and his brother grew up in a racist society where people of colour were deemed naturally inferior to their white counterparts, and fierce prejudice was the norm.
As a professional footballer he faced racist abuse from the terraces, and became an officer in the army despite official rules banning black officers from commanding white men.
Tull's biographer, historian Phil Vasili, said he was a man who preferred to be judged by his deeds rather than his words. "His moral compass was his Christian socialism, moulded by his Methodist upbringing. It provided guidance in his life. He had a developed sense of right and wrong and personally (and politically) he fought against injustice," Vasili, who's been responsible for much of the research into Tull's life, told BuzzFeed News.
Through his actions, Tull "ridiculed the barriers of ignorance that tried to deny people of colour equality with their contemporaries".
Tull's football career began in 1908 with Clapton, one of the best amateur sides in London. That season they won the FA Amateur Cup, and he caught the attention of scouts in the process.
He signed for Tottenham Hotspur in 1909, with a signing fee of £10 and weekly wages of £4. This was despite some misgivings over being a professional footballer – according to the Spurs club historian, Tull was considering working for a newspaper after completing a printing apprenticeship.
After touring with the team in South America he made his debut for Spurs against Manchester United the following season, becoming the country's first black outfield player.
In newspaper match reports he was referred to as "darkie", and he was racially abused by supporters in the grounds during his first games for the club. But he was also praised.
The Daily Chronicle hailed his "perfect coolness" and his "accuracy of strength in passing", remarking that "Tull is very good indeed".
Tull, another reporter wrote, was "Hotspur's most brainy forward...so clean in mind and method as to be a model for all white men who play football".
Graham Tutthill, a former chief reporter at the Dover Mercury, is related to Tull through his mother, Alice, something he discovered while researching stories for the Dover War Memorial Project in 2009.
He said stories from Tull's life showed his first cousin twice removed was, "despite his difficult start, determined to succeed".
"Becoming an orphan at such a young age must have been very hard. And then when he became a professional footballer, he had to endure very offensive comments about his race. But, as the newspaper reports of the time confirm, he rose above the insults and let his football skills do the talking," Tutthill said.
Over the next two years Tull played 10 times for Spurs, scoring two goals. Then in October 1911 he moved to Northampton Town as part of a transfer that saw another player move in the opposite direction.
Link:
https://www.buzzfeed.com/matthewchampion/walter-tull-britains-forgotten-black-hero?utm_term=4ldqpia
From feeds:
Le Test Hub
»
BuzzFeed - Latest
Tags:
letest.buzzfeed
peterh.test_tag
peterh.test_tag2
peterh.test_tag3
peterh.test_tag11
Authors:
Matthew Champion
Date tagged:
10/30/2016, 23:44
Date published:
10/30/2016, 21:31