Carnivorous oyster mushrooms can kill roundworms with "nerve gas in a lollipop"
Ars Technica » Scientific Method 2023-01-18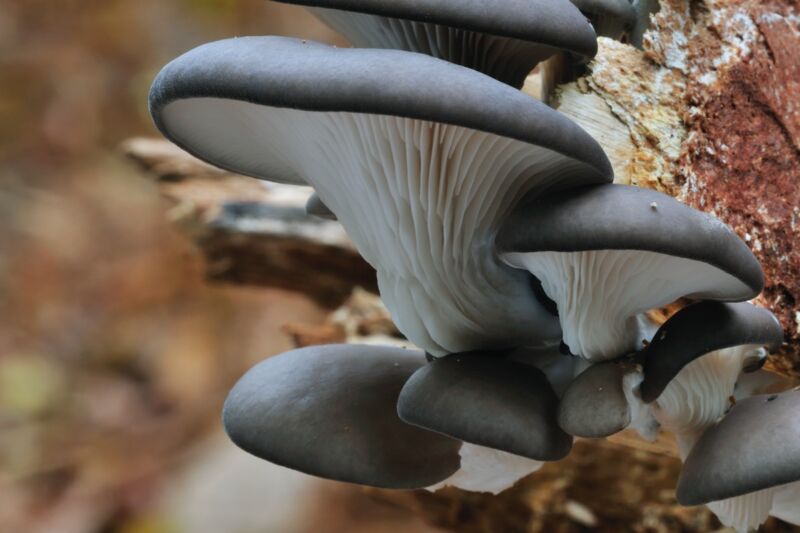 Enlarge / Oyster mushrooms (Pleurotus ostreatus) serenely growing on a tree trunk in a forest. But nematodes beware! These oyster mushrooms want to eat you—and they have evolved a novel mechanism for paralyzing and killing you. (credit: Arterra/Getty Images)
Oyster mushrooms (Pleurotus ostreatus) are a staple of many kinds of cuisine, prized for its mild flavors and a scent vaguely hinting at anise. These cream-colored mushrooms are also one of several types of carnivorous fungi that prey on nematodes (roundworms) in particular. The mushrooms have evolved a novel mechanism for paralyzing and killing its nematode prey: a toxin contained within lollipop-like structures called toxocysts that, when emitted, causes widespread cell death in roundworms within minutes. Scientists have now identified the specific volatile organic compound responsible for this effect, according to a new paper published in the journal Science Advances.
Carnivorous fungi like the oyster mushroom feed on nematodes because these little creatures are plentiful in soil and provide a handy protein source. Different species have evolved various mechanisms for hunting and consuming their prey. For instance, oomycetes are fungus-like organisms that send out "hunter cells" to search for nematodes. Once they find them, they form cysts near the mouth or anus of the roundworms and then inject themselves into the worms to attack the internal organs. Another group of oomycetes uses cells that behave like prey-seeking harpoons, injecting the fungal spores into the worm to seal its fate.
Other fungi produce spores with irritating shapes like stickles or stilettos. The nematodes swallow the spores, which get caught in the esophagus and germinate by puncturing the worm's gut. There are sticky branch-like structures that act like superglue; death collars that detach when nematodes swim through them, injecting themselves into the worms; and a dozen or so fungal species employ snares that constrict in under a second, squeezing the nematodes to death.