House Science Committee holds hearing on "Making EPA Great Again"
Ars Technica » Scientific Method 2017-02-09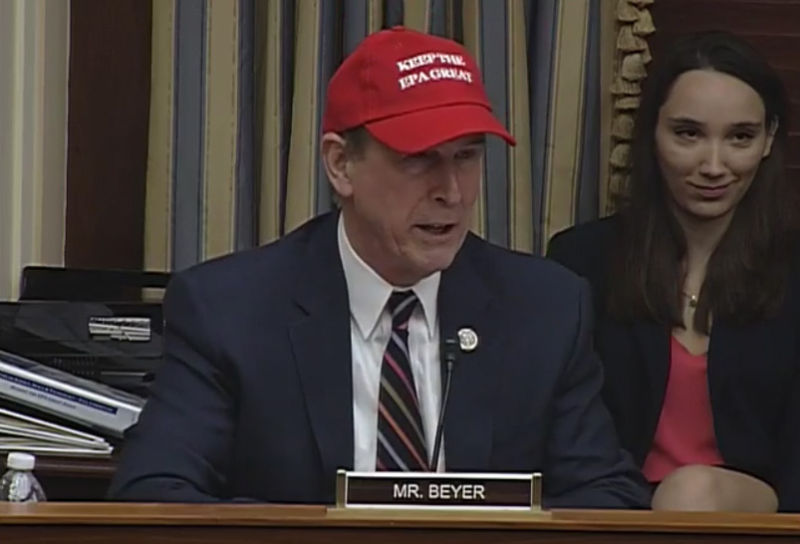 Enlarge / Congressman Don Beyer (D-VA) tweaks the hearing's title by donning a red "KEEP THE EPA GREAT" hat.
With a title like "Making EPA Great Again," there should be little surprise that a lot of Tuesday's House Science Committee hearing was focused on criticism of the US Environmental Protection Agency. The EPA has been a favorite target of the committee's chairman, Congressman Lamar Smith (R-Texas). But the EPA ended up sharing the spotlight with the National Oceanic and Atmospheric Administration (NOAA). A recent news story combined with Smith's lingering displeasure over a 2015 NOAA climate study meant that it became two hearings for the price of one.
NOAA in the crosshairs
In an ongoing saga, Smith accused a group of NOAA climate scientists of fudging data in a 2015 study published in Science on the global temperature record. Smith provided no evidence for this claim other than his own rejection of the observed warming trend affirmed by the study. He then attempted to subpoena the researchers' e-mails—a move that NOAA has (so far) resisted. Last weekend, a story in the UK Mail on Sunday quoted a former NOAA scientist who criticized the 2015 study, primarily alleging that NOAA data archiving procedures were not followed and the study was rushed—claims the researchers reject.
In addition to a series of tweets promoting the story, the House Science Committee promptly put out a press release repeating accusations that NOAA has manipulated its data—even though the results have been duplicated in a recent study and also with every other major dataset available. In his opening statement for Tuesday's hearing, Rep. Smith said that NOAA "deceived the American people by falsifying data to justify a partisan agenda," called on Science to retract the peer-reviewed 2015 study, and promised to continue pressuring NOAA to turn over scientists' e-mails.