US launches program to boost floating wind turbines
Ars Technica » Scientific Method 2022-09-15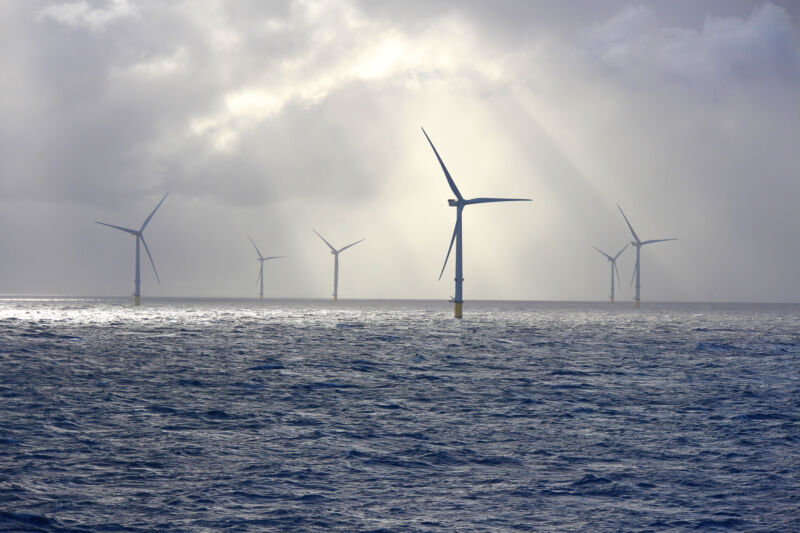 Enlarge (credit: Getty Images)
On Thursday, the Biden administration announced the latest in its renewable energy efforts, this time focused on a technology that hasn't really arrived yet: floating offshore wind turbines. Compared to turbines directly anchored on the seafloor, floating versions are estimated to cost about 50 percent more, placing large ocean areas off-limits to economic energy development. The program announced today will create a "wind shot" that aims to drop the costs by more than 70 percent over the next decade and position the US as an industry leader in this industry.
Will it float?
While offshore wind is booming in Europe and China (and poised for a belated takeoff in the US), existing hardware is built directly up from the seafloor, which requires sitting in shallow waters. This works out well for the US East Coast, where a broad continental shelf can host massive wind farms, many of which are in the permitting and planning stages. Most of those projects involve a partnership with European companies, as the US's long delay in adopting offshore wind has ceded the industry to the countries that pioneered the field.
Based on a newly released map of the potential for offshore wind in the US, many areas with good potential are too deep to be exploited by wind turbines affixed to the ocean floor. This includes nearly the entire West Coast, Hawaii, and the Great Lakes. Even along the East Coast, floating turbines could greatly expand the areas open to development.