Fire ant rafts form because of the Cheerios effect, study concludes
Ars Technica » Scientific Method 2022-09-16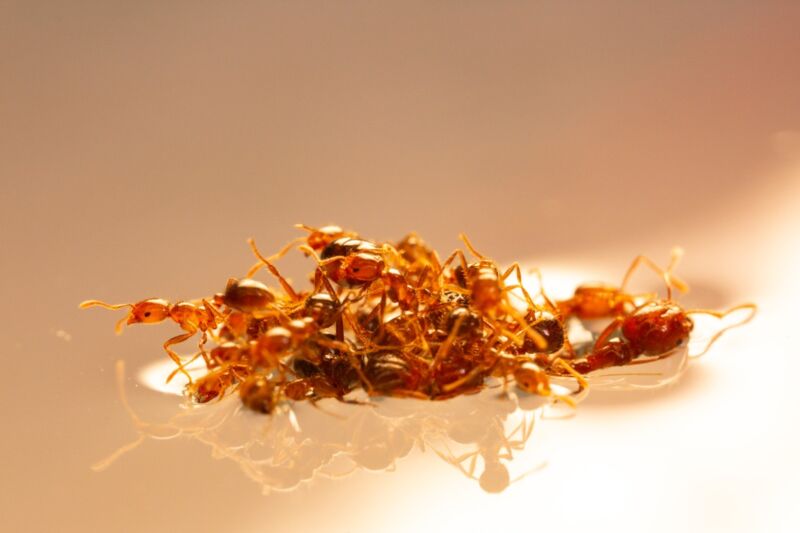 Enlarge / Georgia Tech scientists found that the so-called "Cheerios effect" is the mechanism by which fire ants cluster together to form rafts. (credit: Hungtang Ko)
Fire ants might be the scourge of southern states like Georgia and Texas, but scientifically, they are endlessly fascinating as an example of collective behavior. A few fire ants spaced well apart behave like individual ants. But pack enough of them closely together, and they act more like a single unit, exhibiting both solid and liquid properties. They can form rafts to survive flash floods, arrange themselves into towers, and you can even pour them from a teapot like a fluid.
"Aggregated, they can almost be thought of as a material, known as 'active matter,'" said Hungtang Ko, now a postdoc at Princeton University, who began studying these fascinating creatures as a Georgia Tech graduate student in 2018. (And yes, he has been stung many, many times.) He's a co-author of two recent papers investigating the physics of fire ant rafts. The first, published in the journal Bioinspiration and Biomimetics (B&B), investigated how fire ant rafts behave in flowing water compared to static water conditions.
The second, accepted for publication in Physical Review Fluids, explored the mechanism by which fire ants come together to form the rafts in the first place. Ko et al. were somewhat surprised to find that the primary mechanism appears to be the so-called "Cheerios effect"—named in honor of the tendency for those last remaining Cheerios floating in milk to clump together in the bowl, either drifting to the center, or to the outer edges.