Plastic surgeon injected kids with saline instead of COVID vaccine, feds allege
Ars Technica » Scientific Method 2023-01-19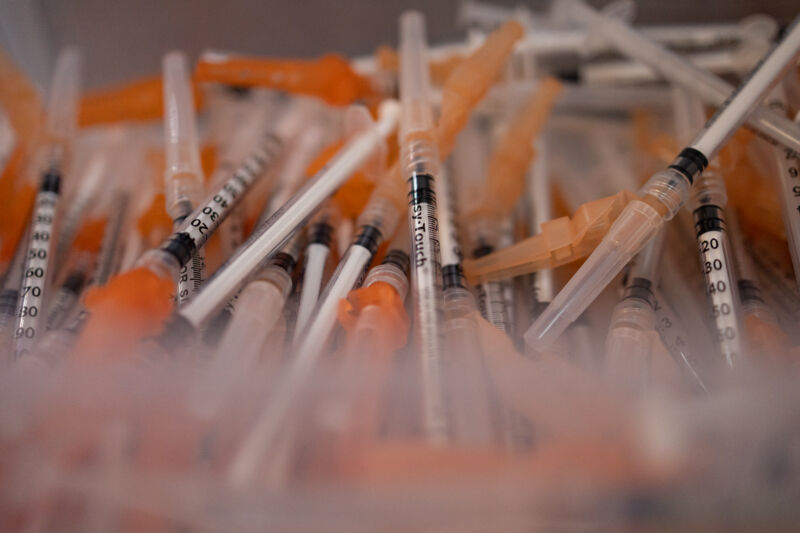 Enlarge / A container of syringes used to administer COVID-19 vaccine. (credit: Getty | Hannah Beier/Bloomberg )
A Utah plastic surgeon and three of his associates are facing federal charges for a year-long scheme in which they allegedly squirted around 2,000 vaccine doses down the drain, sold falsified vaccination cards for $50 each, and tricked kids into thinking they were vaccinated against COVID-19 by injecting them with saline, collectively, 391 times.
Federal prosecutors last week indicted Dr. Michael Kirk Moore Jr., who owns and operates Plastic Surgery Institute of Utah in Midvale, south of Salt Lake City, as well as the business' office manager, Kari Dee Burgoyne, its receptionist, Sandra Flores, and a neighbor of Moore's, Kristin Jackson Andersen. All four are charged with conspiracy to defraud the federal government, along with two counts related to improper disposal of government property.
According to the indictment, which was unsealed on January 17, Moore, Burgoyne, Flores, and Andersen set up a scheme in which the plastic surgery practice became a legitimate COVID-19 vaccine provider. Moore signed the government's COVID-19 Vaccination Program Provider Agreement in May 2021, allowing the site to receive bona fide, government-purchased COVID-19 doses. Between October 15, 2021, and September 6, 2022, the group ordered around 2,200 vaccine doses from the federal government.