2012 was hottest on record in the US, warm everywhere else
Ars Technica » Scientific Method 2013-01-09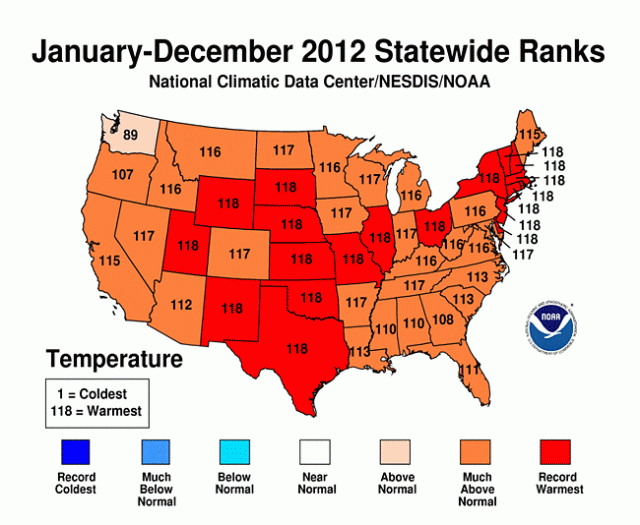 Of the 118 years on record, 2012 came out on top in 19 states.
When 19 of the contiguous 48 states have the warmest years on record, it's pretty much guaranteed to be a record year for the country as a whole. But saying that 2012 had record heat doesn't truly capture how much of an aberration the year was for the US, according to the annual report from NOAA. Another 10 states had their second-warmest years on record; seven more had their third. The end result was a year that was a full degree Fahrenheit above the previous record holder, and  1.8°C (3.3°F) above the average from last century.
Most of the warmth came during the early part of the year, which was accompanied by significant drought conditions across a wide section of the country. NOAA's "climate extremes index," which incorporates temperature, precipitation, and other trends shows the entire South (from Texas to the East Coast) experienced its most extreme weather in the spring; everything but the West Coast was much above average during that time. The index shows that 2012 was either the most extreme on record or came in second to 1998, depending on whether you included hurricane activity.
For some regions of the country, snow took the year off. As NOAA puts it, "The 2011/12 winter season was nearly non-existent for much of the eastern half of the nation." The result was the third-lowest snow cover on record in the 48 contiguous states, with only a relatively heavy winter in the Pacific Northwest keeping matters from being worse. The low snowpack contributed to the drought conditions that prevailed over most of the summer.
Read 6 remaining paragraphs | Comments